JCC Members Must be Logged in to see Member Pricing. Please click the person ICON above if you are a member.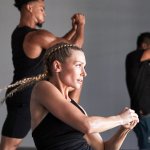 J Fit Fiesta
Event details
Date
Notes
Sunday, May 5, 2019 9:00 am-12:00 pm
Lawrence Family JCC

Join the Movement, Find your fit, connect and have fun!

Complimentary group classes, meet the trainers, music, snacks, babysitting and more! Bring your friends!

Featuring: LesMills Master Class, New Music & Choreography for BodyPump, BodyCombat & Grit.
Other sample classes: Zumba, Pickle Ball, Spin, Jbarre, Yoga & Masters Swim.

Spring Training BOGO: buy one 30-minute personal session get one free.
Offer valid April 1- May 15, 2019 for new and current JCC members.

Price: Free- Space is limited, sign up today!