JCC Members Must be Logged in to see Member Pricing. Please click the person ICON above if you are a member.
Event details
Date
June 13, 2019 10:30AM
Description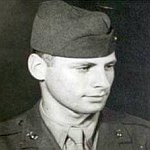 Thursday, June 13, 2019 at 10:30 am - 11:30 am
The Samuel and Rebecca Astor Judaica Library

Please join us for another in our series of historical presentations. Lou de Beer, a recipient of the Coronado Avenue of Heroes Award, will relay his personal account of his WWII and Korean War experiences. The son of American parents, Lou was born in Amsterdam. As a boy he witnessed the arrival of the German troops in 1940 and lived through 18 months of occupation. His experience adds an important and generally overlooked angle to the history of the Second World War in Europe.

Price: $6; Member Price: $4