JCC Members Must be Logged in to see Member Pricing. Please click the person ICON above if you are a member.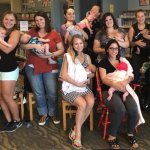 Shalom Baby May-June 2019 Playgroup Get Together
Event details
Date
Description
10:30 am - 12:00 pm
JTEAM Room

Shalom Baby initial playgroup get together at the Lawrence Family Jewish Community Center - JTEAM Room. This playgroup will be for moms who had babies in May-June 2019. We are so looking forward to meeting you and introducing you to other moms and babies who are similar in age.Beautiful friendships have formed, we hope your playgroup will be as successful.