JCC Members Must be Logged in to see Member Pricing. Please click the person ICON above if you are a member.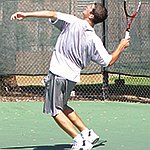 Monthly Tennis Clinics
Event details
Date
Description
Albert A. Hutler Tennis Center
Lawrence Family JCC

In this class we will work on forehands and backhands technique. We will focus on the grips and the flow of the swings (take back and follow through). Repetition is key, therefore we will have drills that will keep each player working on their swings.

Price: JCC Member Free
Sold Out!