JCC Members Must be Logged in to see Member Pricing. Please click the person ICON above if you are a member.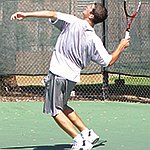 Monthly Tennis Clinics
Event details
Date
Description
Albert A. Hutler Tennis Center
Lawrence Family JCC

The clinic is focused on teaching the various ways to hit the ball in a singles and doubles setting. We will teach topspin and underspin (slice) for the forehand as well as the backhand. We will have drills for repetition, live balls and play points in order to challenge them on the subject.

Price: JCC Member Free
Sold Out!