JCC Members Must be Logged in to see Member Pricing. Please click the person ICON above if you are a member.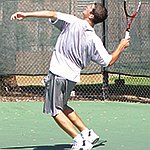 Monthly Tennis Clinics
Event details
Date
Description
Albert A. Hutler Tennis Center
Lawrence Family JCC

This is a clinic that will help the players work on their serves and return of serve. We will focus on the technical aspects of the serve, the toss and spin. We will also teach how to hit a return and where the player should position themselves while waiting for the serve. We will finish with love balls and playing points.

Price: JCC Member Free
Sold Out!