JCC Members Must be Logged in to see Member Pricing. Please click the person ICON above if you are a member.
September 8, 2019 11:00AM
Sink or Swim: Cardboard Boat Race & Membership BBQ
Sunday, September 8, 2019 11:00 am- 2:00 pm
Event details
Date
September 8, 2019 11:00AM
Description
Friedenberg Olympic Pool
Lawrence Family JCC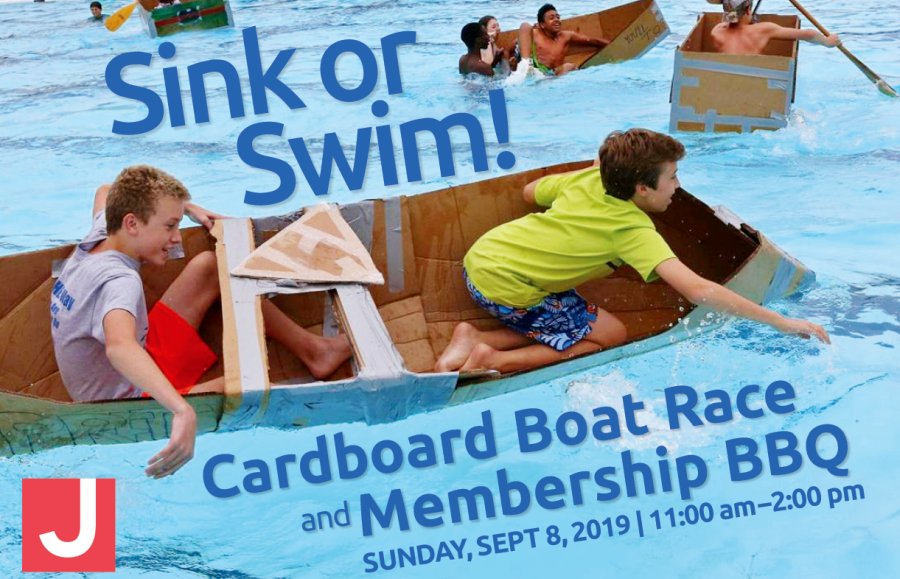 Navigate your way to the J for the first-ever cardboard boat race. We invite you to build a boat using only cardboard and duct tape, capable of carrying one or two people across the pool. Only homemade paddles (cardboard & duct tape) allowed! Race categories: ages 3-7, 8-11, 12-15, & 16+. Children under age 7 must have an adult in the boat and be able to swim. Boats must be built ahead of time.

11:00 am-12:30 pm: Boat Races
12:30 pm-2:00 pm: BBQ

Kosher hot dogs and veggie options included!

Registration required by Wednesday, September 4, 2019.

Price: Free; JCC Members Only

Only one cardboard boat team per registration. Please select your division below.

Click here for all cardboard boat race rules.
You must be logged in as a Member to reserve this event. If you are unable to remember your membership login, please contact guest services.