JCC Members Must be Logged in to see Member Pricing. Please click the person ICON above if you are a member.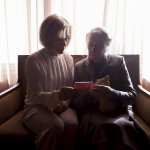 San Diego International Jewish Film Festival
30th Anniversary Spring Film Series:
Let Me Go
Friday, May 22, 2020 | 11:00 am
Event details
Date
Description
Friday, May 22, 2020 | 11:00 am
David & Dorothea Garfield Theatre
Lawrence Family JCC

Four generations of women confront a terrible family secret when Traudi, the mother who abandoned her young daughter, Helga, in 1941, is close to death. Helga's visit to her mother decades later with her own granddaughter, Emily, leads to shocking revelations that each woman has to come to terms with. Based on a true story and book by Helga Schneider. Contains Holocaust material.


Let Me Go(FULL TRAILER)

Director Polly Steele

Drama, History and War| UK, Austria | 2017 | 101 mins | German, English | San Diego Premiere

Tickets: Available day of screening, FREE admission